Posted by Jerry Wigutow on August 09, 2017
First, a Testimonial for the Slumber Bag:
The Slumber Bag: Durable and Comfortable
We have four of these sleeping bags and they have held up well after years of use. The rectangular "Slumber Bag" is a simple and comfortable sleeping bag or blanket. The zippers are large and heavy duty which makes them easy to zip and unzip without snags or difficulty.

If you have kids and want sleeping bags that will stand up to hard use--these are the bags to buy. These sleeping bags are easy to store and easy to wash.
– Cody Immel
I cannot recall for how many years I have been making the Slumber Bag but I do know this testimonial is the first for me to receive. The bag has been a good selling product, so while I haven't received other testimonials I am sure those who have purchased them have been satisfied. Thank you, Cody!
Knee Warmer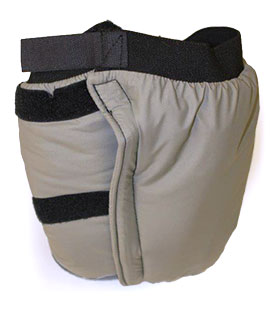 Yesterday we made the final version of the Knee Warmer and I tried it on to make sure it will work. When I say 'work' I mean how well it will stay in place when you are walking, as well as sleeping—though the walking aspect is more important. I know it will work very well for keeping your knee warm.
The insulation is the L-6 Lamilite, the same weight as is used in the Lamilite sweater or the FTRSS overbag. The shell fabric is the vapor permeable urban grey nylon taffeta. At the top and bottom of the knee warmer is 1 ½ inch elastic webbing which will hold the knee warmer in place while you are active.
The idea for this product is for people who have had knee replacement surgery. My mother had it and never complained to me about a cold knee so when I was told that this is not uncommon I was surprised. The problem is now fixed.
When you have replacement surgery, metal is inserted into your body which apparently and when the weather changes to winter the metal is probably effected, so you get cold in that area. The other aspect that I suspect happens has to do with less blood flow through the knee area to the feet. I know that this does occur since the doctor told me while my mother's bones were initially okay, the vessels bring blood to her knee were somehow damaged which caused the bones to deteriorate due to a lack of blood. Blood brings warmth to all areas of the body so the removal of some of the internal; parts of the body means less blood to that area. It also means less warm blood flowing from the feet back to the heart, so maybe people also have cold feet due to blood supply that is not adequate.
The Knee Warmer will be on the website today and the cost is $40.00 each.